how can i change the text with html. HTML doesnt work in this widget(<p>,<b>)
https://hostingkartinok.com/show-image.php?id=be5eae295baf0bc2542cef5d07a394a5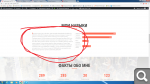 Hello there,
For security reason to meet the WordPress.org requirement, the textarea output is escaped. To disable it, you need to edit the widgets/fp-skills.php file. Find this line:

<?php echo esc_textarea($skills_desc); ?>


and then replace it with:

<?php echo $skills_desc; ?>


Note that the changes you made in the theme's template file will be overridden once you update the theme in the future. So you need to redo this modification.
Regards,
Kharis
Hello there,
I would like to apologize in advance for the delay.
Please replace your fp-skills.php with this.
Regards,
Kharis
You're welcome!
Please let us know in a new topic if you have any further questions, or if we can provide you with any other assistance.
Regards,
Kharis